History
A short video about The Seasons Performance Hall history and current live-stream project
A Short History of The Seasons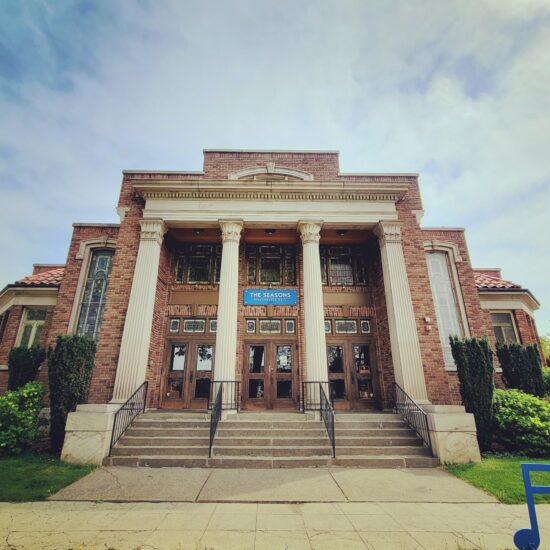 The Seasons is a repurposed Christian Science Church which was built starting in 1917. It is one of the most spectacular historical churches in Yakima. It is currently under consideration for inclusion in the National Register of Historic Places and we are discovering rich troves of history as we submit documents for review.
The church was founded in 1899 with 20 original charter members. The congregation moved around between several different buildings between 1899 and 1916. In 1916, the First Church of Christ Scientist congregation had outgrown their space at 304 N 2nd St (where the Woman's Century Club is now) and bought the land at 101 N. Naches Ave from Stanley Coffin, a local sheep Barron in the valley.
The congregation hired local architect Winfield M. Perrin who had designed several other buildings in Yakima, including the Perrin House (also on the National Historic Registry). Perrin designed the building drawing inspiration from the Mother Church of Christian Scientists in Boston and the Italian Renaissance style. The building features stately columns and a domed roof topped with a lantern light.
The most notable feature of the building are the gorgeous stained glass windows that are encircle the building. The windows were designed and installed in 1920 by David Lincoln Povey and the Povey Bros. Glass Studio. The Povey Bros. Glass Studio was the most well known stained glass studio in the Pacific Northwest from when the studio opened in 1888 to 1929 when they finally closed. The windows at the Seasons feature some of the aspects that the Povey Studio was known for including glass jewels in the windows and opalescent glass.
Later in 1948, Seattle architect Archibald Torbitt was brought on to add an additional Sunday school room to the east side of the building (now the Seasons Bistro). Torbitt was a Christian Scientist and had designed several other Christian Scientist Church including the Christian Scientist Church in Anacortes and the Dalles. The Sunday school was finished in 1952 and was in the same style as the rest of the building. 17
The First Church of Christ Scientist operated at 101 N Naches Ave. from 1918 until 2005 when the building was sold to the Seasons Music Festival. The Seasons Music Festival is a community non-profit organization with a goal to present musical performances in the building, and showcase the beautiful historical hall with impeccable acoustics.
In 2009, the non-profit received a donation of the Performance Hall itself from the Strosahl Family, a local philanthrope with ties to the arts and music community. Thereafter, the mission of The Seasons Music Festival was expanded to include owning and managing The Seasons Performance Hall.
Since the Seasons Performance Hall opened in 2005 it has been bringing a diverse range of music and art to Yakima. Some performances you might have seen include Macklemore, the Brubeck Brothers, and many others!